Bus ride through a non existent forest
Maroon bus. No air con. Potholed road to Tucurui. 4 and half hours of travelling through land that used to be forest I believe.
Shrubland now with termite hills, the odd eucalyptus grove, white cattle with bony humps, brown rivers, ponds, wooden homesteads with verandas, palm trees of various sorts and many burnt tall trees. The bus moves at a fast pace stopping every now and then to pick up people who stay with us a while. It is a good journey. The landscape and roadside settlements don't change much. Until we pass a massive cement factory next to a small but developed town.
Soon after in the distance is a white spray flying up and we come to a big dam and a reservoir stretching for miles to our left. The power of the water as it creates electricity, the width of the river and the huge river lock. We are getting close to our temporary destination.
Connecting Home
The Guiana Palace Hotel in the good sized town of Tucurui is clean and simple with good wi fi.  I am able to upload images, collect accumulated emails and feel again connected to my wider world. There is very little significant news except a great success with some grant funding for the Hothouse. We are building the steps – bit by bit.
The Escaderias de Santo Antonio
Humid busy traffic streets and a hill leading down to ….
a parade space being made ready for the nights espectaculo when the Escula de Samba will take the streets. We walk along to where the floats are being finished off. They have a particular style – realismus and / or maybe pop art.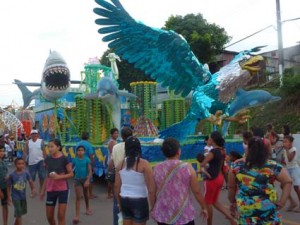 Where do they fit in an artistic spectrum? What stories will they tell. There is a band practicing up on a high terrace.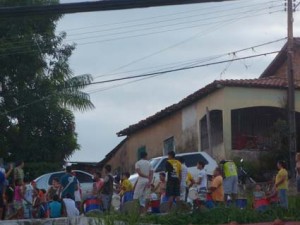 Running out of energy we head back to the hotel for resting time with beer, fruit and cachaca purchased from a large supermercado. It is good – we sit and read and listen as a storm of huge dimensions soaks the world around us. No rush to go out – we know that now. Everything has it's time.
When we arrive down at the Escaderias there are many there though it is not yet heaving. Corn, cheese epanadas, beer all purchased and eaten as we find a place to sit and make friends with the people around us. Very family. Very relaxed.
There are people in private hang outs, judges in their huts, street cleaners and camerapeople. A light spattering of rain brings out the umbrellas. We wait, and wait and listen to the sound checks not quite sure what will occur.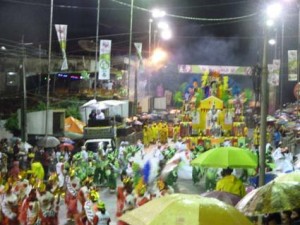 And then they begin to move from the far end and the first school begins to make it's way down the parade ground. Designed to tell a story with costumes in phases and 2 big floats pushed along front and back. There is a formula that each school follows and which is presumably judged. Soloists, tightly choreographed groups and more free dancers. The music is one song performed by 3 singers accompanied by a guitars and tres and a large batteria.
The band are wirelessly amplified as they move along and the show lasts an hour – with one tune ! The crowd watch seemingly quite uninvolved, chatting, watching, yawning and drinking. We watch, eat chips and I drink!
Though I'm sure I wasn't drunk …  that's not Kathryn's story!