The Bridge
Sunday and we are hiring a car to go to visit the monument made with the Landless movement to remember the massacre of April 1994.
First we take a slight detour to see a 2.5 km bridge over the river which opens the conversation about the exploitation of the Amazon, of it's people and it's resources. The political agenda is ever present. The trains that carry the extracted minerals, wood and cattle can be this long and run day after red not day. The current 'socialist' government has no feelings about preservation of peoples and environment  and follows from previous administrations that have been allowing the rich to burn the forest and it's people in order to create farmland and mines. The many hydro electric dams are just then next stage and have dire consequences locally, regionally and globally. This is the context of their work and one of the focuses of their Latin American solidarity work.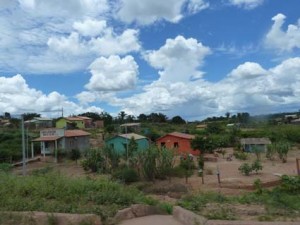 Car Drive and Popular Education
Little hire car manages the pot holes and craters in the road guided by Dan's secure hands! Conversations never stop and the theme for a while is about  language and the development of a new paradigm that is 'popular' education not 'informal' education. Informal implies a negative, a lack of developed thinking and a concept that is on the outside and not central. However, in every aspect of cultural development and education we have developed a methodology that is both reflective and disciplined, carefully constructed and conceived in response to social context. The term should be 'popular education, as a partner in the learning environment to formal education. So the work we do at Mais Musica is as important as the work that others do and is extremely rigorous in it's thinking, development and in it's place in a national and international environment….. and we drive on through mile after mile of ex forest that is now ranch land growing cattle for international markets. There are palm trees, trucks of every size and potholes and craters in the road!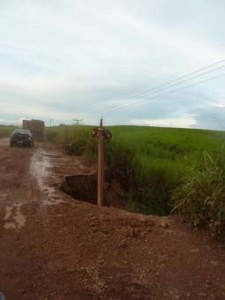 Lunch takes the conversation to eating meat as we sit in a roadside place called Bull in the Fire.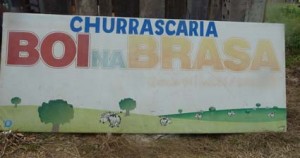 Me and Kathryn consume lovely rice and beans with salad as they eat chicken barbequed and brought over on long shafts of metal!
Monument
By the side of the road.  19 burnt Brasil nut trees, each at least 10 metres tall. Commemorate the massacre of people from the Landless Movement. By the military police. To send a signal 'Don't mess with the rich landowners' More died than the 19 who are represented by the trunks. Those were the only bodies left. Many women and children were buried in unmarked graves
We sit on the veranda of a wooden house and talk to the women who live there by the side of this road. The eldest lady was here when it happened and hid under a mattress until it was all over.
The tragedy was an enormous moment in northen Brazilian history and the people from the Landless Movement asks Dan to help build a memorial/monument. The process was long and totally democratic in every aspect and this seems to be a character of his pedagogy (methodology).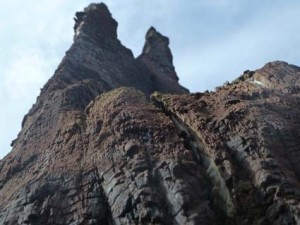 The burnt trees were chosen for their poetic character and collected from the forests by truck and crane. They are positioned to create an aerial map of Brazil. Every April people from the movement come here and camp for a month or more and it becomes a school, a theatre, a place for learning and solidarity. We drink cocunut milk and sugar cane juice in a roadside 'shack' and talk some more.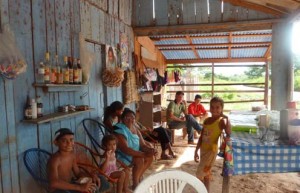 Izzy the Poet
On our way back to Maraba we stop to see a woman who has worked with them for many years as a trainee educator and then a poet. We met her in Belem 2 years ago when she attended my workshop. In her tiny single brick wall house we talk. She is now a teacher. She has 4 young children. She has pneumonia. She is optimistic and also sad it seems. As we sit and look out at the dirt tracks, the chickens, the scrawny mongrel dogs playing out I can't help thinking yet again about how different all of our expectations of life are. The young child playing on the bed – where does his life lead. Travelling is so reflective
Dancing and Playing and Dancing some more
Arriving back we snack and then get ready to go out to dance with our blocos! We have the Copo de Farado t shirts and tonight I take my trumpet in case the opportunity to play arises. Finding a bar again we sit and have a drink and a photo opportunity arises.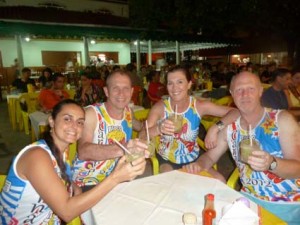 Our bloco is gathering and we go join them ready to dance the length of the promenade towards the big stage. At the front are the choreographed dancers, then our gang of 80 or so part people and behind us the big boogy bus. The tunes come from that and also then sent to the speakers along the road. The bars are full… we are all a bit mad and ready to party and off we go.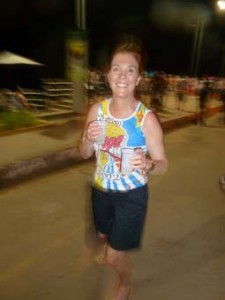 It is mad and fun… and we feel very much part of this bloco from Cabelo Seco. The next along will be some of our young people in choreography and Zequinas band on top of the truck. I go to join them ! 2 surdos, kit, bass, guitar, vocalist and horn section + me. I change shirt to match and after interminable sound checking off we go. And there are so many tunes!!! That I don't know. I smile and play some of the time. Good fun… and I see Kathryn and Mano down in the road in new shirts as well – dancing and getting sprayed with foam …
We end up at the stage and go for some more cachaca all together and then start to dance to the singuera band … a kind of sexy reggae .. home about 3..