The Birthday Breakfast
Is different here… by 7.30 we have 7 of the band wandering in and out of the space waiting to great K! The night was OK though the mosquitos are fierce in their determination to bite the strangers. New blood. Lets hope none of them are carrying dengue fever. 11 of us sit around the table for coffee, cheese buns and cake. The candle is lit and the singing begins. It is very joyful even given the circumstances of the night before. The sky is clear today and the sun is very hot.
Young Leaders Presentation at the Judith School
Today the band were supposed to deliver 2 shows at the other of the 2 local municipal schools as part of the start of year celebrations. Because of the murder in the community and also the closeness of Diago to many of the young band it was inappropriate / impossible for them to play. However Dan and they felt very strongly that the death should not stop life. So me and him went to each of the assemblies and created a 25 minute show that introduced me and my music to the school (Bring me Sunshine – trumpet and voice / Irish penny whistle tunes / African songs / Chinese tune and song / Brazilian meldo on the melodica) .
Morning session was the younger age and it worked very well and we managed to keep them engaged. Dan also talked about the assassination and explained why the young people were not coming to play. Following our presentation they brought the young leaders (2 from each class) onto stage to honour them and their role within the school with certificates, oaths etc.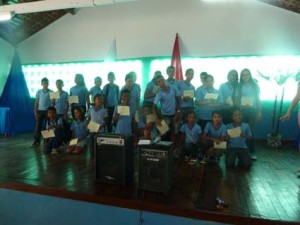 All very well done and with good spirit. Lunch was at home and the second show for the older group was good if a little shorter because of the heat. (Audience figures this day = 450)
Funeral
Meanwhile Mano went to the funeral with 2 coaches of people from Cabelo Seco. The body was buried so fast because often in these circumstances if there is a wake the murderers return and can disrupt and cause bad things to happen in the home. Apparently there were 200 candles and red roses plaed on the grave. A powerful image.
Dinner on the Orla
We meet midevening and head for a birthday meal down the river. A great casserole of fish in coconut milk with rice. A lovely night and a good celebration of Kathryn. Hooray. And what a day…