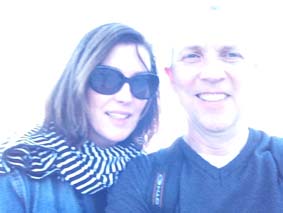 This diary will develop with photos and news from us both.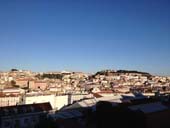 Lisbon
Beautiful few hours in a city that feels quite familiar after our autumn trip. Coffee on the square at the top of town. Beer with the dreadlocked youngsters at the beer park overlooking the river as the sun began to go down. Beer and snack in a lovely pastelleria and then as the barrio alto places were shut we went into a very local café/restaurant – Casa de India – and had great fish and potatoes, rice and sald and more beer. A stopover and also a place I am sure we will revisit lots as daughter Rosie and Paulo settle here.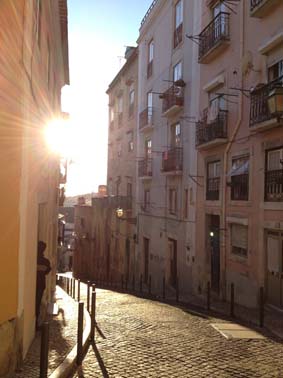 Travellers
The man city fan on the first flight there with his four friends – only missed four matches this season. Sad cos of his broken knee that stops him working. But he is a traveller for sure and likes to talk of his travels as a truck driver round Europe. Fellow Brazilian traveller from Manchester with 2 portugese guitars and a white shirt with a big collar. All the way to Brasilia he follows us! The granny looking after her children and grandchildren and folding up the red blankets and pillows as we came down to land.
Land in Brasilia
At every moment assessing what you see and trying to make sense of it. Remembering the same feeling travelling on the train from Kyoto to Tokyo many years ago spotting all the golf driving ranges in the towns. Here there are no doors to the airport. It is open to the world! And now as we fly north what will we see out of the windows?
Maraba Arrival
Cloudy, cityscape below, red roof, red dust track roads, big river, What will we find? Luggage for a start (phew – all the bags with presents an instruments!) and then Dan waiting. My childhood friend re-met after a long gap (more of this later) and as we round the corner to get outside : 8 smiling young people playing and singing in welcome. "Bienvido a Maraba. Kathryn and Pete" Great joy and suddenly it all makes sense. We have arrived in a new community who are as excited as we are. Ready to play I am sure.
Cabelo Seco
The drive is with a member of the community and some of he young people over a long bridge, down a bamboo lines road and into the area of old Maraba where the community of Cabelo Seco is. The name means dry hair and was written in response to the seeming dryness of African hair when it came in contact with water. This community, we are told, are the oldest within the city and also inevitably the most disenfranchised. There are 200 families – Afro indigenous people and this is where Dan and Mano have worked for 7 years and lived for the last year (there will be much more to tell). It is a community that is threatened in particular by the building of a hydro electric dam, the regulation of the river level and the massive expansion of the town that will see this communities water front changed from a place where they wash clothes, fish and swim to a series of hotels and rich peoples mansions. The focus of our friends work is with a group of young people, with whom they have worked for four years and who they are listening to and letting lead the project for the whole community. We arrive at their home in the middle of this community, sit and talk with the young people, are introduced to Zequino (the local grandfather and holder of the music traditions), and we introduce ourselves – largely in Portugese. At every moment assessing what we see and trying to make sense of it.
The day is long – we walk, eat lunch, talk and receive briefings on safety and discuss potential schedules…