Dan and Manos Flat
The morning is very chilled as we sit, read, catch up and have a lovely breakfast bought from the deli round the corner. This is a good part of the city to live in and quite familiar from the last trip. The view over the city to the river catches all these tower blocks. The sounds from the school next door of kids playing out takes over from the cockerel that starts at 6am and goes on and on.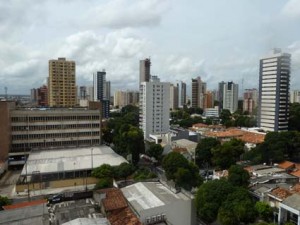 The walk
Gentle strolling down through the park and past the Teatro Paz. Passing great street cafes, jugglers performing in front of cars at traffic lights, market stalls, old churches and the beautiful yet very run down buildings. Such a sense of history here – of riches from the past that linger. Fresh coconut milk to cool us down before we reach the great markets of Ver o Peso.
Everything you could want is on sale and before we lunch we sit on the top level by the river and drink beer and talk and talk and talk.
Rain
It is the rainforest and every day there is a significant downpour. Today is the same and we watch it from inside the market as we eat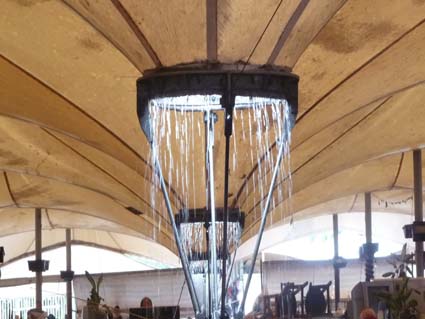 From the colonnades of a lovely mansion where we drink coffee and read our books.
And on the streets of the harbour where the vultures play and the carts drag coconuts, fruits, fish and all sorts of goods.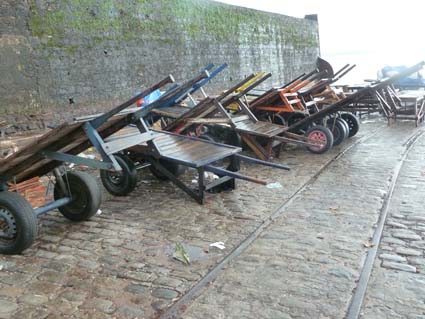 The harbour is full.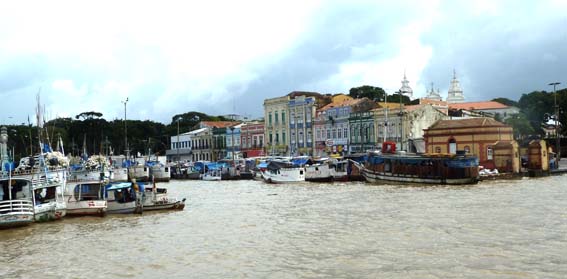 Old Friends
The evening finishes at Toninhos bar where we finally meet Vinicius and his father again. Sitting round a table with them and a group of friends we catch up, try to explain wht it is we are doing here, try to understand their lives and talk about the crisis in Europe and the lack of jobs, about the tiny chance for them to get work as journalists out of university and then about the beautiful beach where they just had 4 days holiday! Rather tired we head home for sleep.